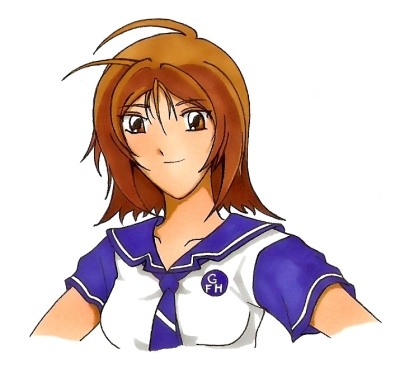 Wer ist Emi Kusakabe?
Emi ist mein persönliches Seitenmaskottchen. Sie ist 17 Jahre alt, Schülerin und in ihrer Freizeit hat sie sehr viele Hobbies die allerdings nicht sehr hilfreich im Unterricht sind. Sie sammelt Figuren, schaut Animes, liest Mangas und ist zusätzlich noch eine fanatische Cosplayerin. Ihr einziges Problem ist nur, sie hat noch nicht sehr viele Freunde. Sie ist neu in ihrer Schule und der Stadt, aber Emi lässt sich davon nicht unterkriegen!
Sie ist sehr energisch und voller Tatendrang was dummerweise auch die Leute in ihrem engeren Umfeld sehr schnell zu spüren bekommen haben. Sie schöpft das Leben vollkommen aus und hat Spaß dabei, auch wenn sie ihren Bekannten im Gegenzug das Leben erschwert. Allerdings hat Emi auch ein paar Schwächen, welche sie nur sehr ungern zugibt. Sie könnte um einiges besser in der Schule sein und sie hat absolut kein Talent zum Tanzen. Leute die sie sehr gut kennen können sie damit bewusst ausbremsen, doch eines ist gewiss, das nächste verrückte Vorhaben kommt bestimmt!
Erschaffen wurde Emi in Zusammenarbeit mit JR, ich bin ihr immer noch sehr dankbar dafür das wir das Projekt Seitenmaskottchen so grandios durchführen konnte! Die Inspiration für ein Maskottchen wurde mir durch Danny Choo verliehen. Ich respektiere Danny sehr, er zeigt deutlich wie ich mein Leben mittlerweile auch gestalte. Bleib am Ball und du kannst einiges schaffen! Somit bleibt abschließend eigentlich nur noch zu sagen… na, gefällt euch Emi? Ja? Dann schaut auch mal in Emi´s Room! Dort findet ihr noch weitere Bilder von ihr und ich hoffe es werden nicht die letzten gewesen sein!
~Feldi
______________________________________________________________________
Who is Emi Kusakabe?
Emi is my personal site mascot. She is 17 years old, schoolgirl and in her free time she has many hobbies which are not very helpful for her classes. She  collects figures, watches animes, reads mangas and is additional a fanatic cosplayer. Her only problem is, she has not so many friends in the moment. She is new in her school and the city but Emi will keep herself going!
She is really energetic and thirsty for action, unfortunately people in her closer environment are getting a feeling of this very fast. She enjoys life totally and does it with fun even if her friends have a harder life in return. However also Emi has some weaknesses about she doesn´t like to talk. She really could be better at school and she absolutely has no talent for dancing. People who know her really good could upset her plans but one thing is for sure, the next crazy plan is already coming!
Emi was created in cooperation with JR, I´am still very grateful that we were able to finish the site mascot project so awesome! The inspiration for a mascot was given to me by Danny Choo. I respect him a lot and he is showing clearly how I live my live by now. Keep on going and you can accomplish plenty things! Just one thing to say at last… Do you people like Emi? Yes? then also look into Emi´s Room! There you will find many other pictures of her and I hope it will not be the last ones!
~Feldi