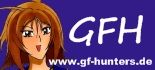 Ihr seid auf dieser Website gelandet und sie gefällt euch so gut das ihr uns jetzt etwas mitteilen wollt? Ihr habt Lust auf einen Linkaustausch oder wollt uns Verbesserungsvorschläge ans Herz legen? Oder ihr habt einen Fehler entdeckt und wollt uns informieren?
Egal was es ist, wir freuen uns über eure Nachricht! Benutzt einfach das Kontaktformular mit eurem Anliegen und ihr bekommt so schnell wie möglich eine Antwort! Wenn ihr allerdings persönlich mit einem Teammitglied Kontakt aufnehmen wollt, dann schaut doch mal auf die Team Seite 😉 .
_______________________________________________________________________________
You found this website and you like it so much that you wish to tell us something? You´re interested to exchange links or you want to give us tipps for improvement? Or you found a bug and now you want to inform us about it?
Unimportant what it is, we are happy to get you message! Just use the contact form and you will receive an answer as soon as possible. If you wish to contact a team member personal, then take a look at the Team Site 😉 .